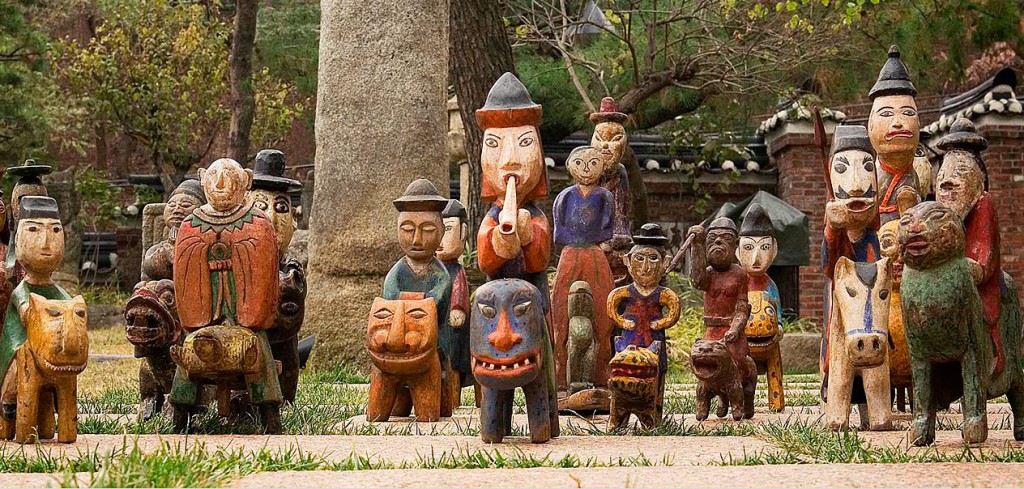 A Colorful Journey to the Afterlife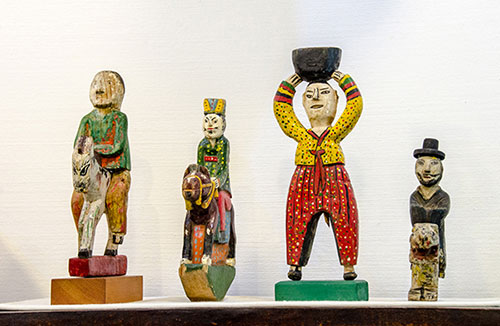 On one of my first trips to Korea, I came across some carved and painted figures in an antique shop in Insadong that I found to be pretty wonderful.  I didn't know what they were and the shop owner spoke no English so I didn't ask.  But it didn't matter.  They were charming and I wanted to take one, or preferably all, of them home with me.  I asked the universally understood "How much?" to which the shop owner responded by punching a 1 followed by lots of zeros into her calculator.  Six zeros.  One million won.  About a thousand dollars.  Each.  Sadly, they did not come home with me.  They were charming, but I knew my husband wouldn't think they were a million won charming.  Those same figures were in that same shop for years after that and the price never changed.  I know because I always checked.  Apparently no one else found them to be a million won worth of charming either.
I wondered from time to time what they were, but assumed they were just a form of folk art because they weren't all that different from the carved, painted figures that can be found in the folk art of many cultures around the world.
It wasn't until we began doing research for 100 Thimbles in a Box that I learned that they were actually funerary figures called kokdu or mokin, used during the Joseon Dynasty (late 19th — early 20th c.) as decorations on funeral biers.  Their purpose was to accompany and guide the deceased on their 40-day and 40-night journey to the afterlife and to provide them with friendship, companionship, spiritual guidance, protection and entertainment along the way.  The deceased had a lot of company – there were usually dozens of them on each funeral bier, a mix of humans, animals and mythical creatures.  They were all chosen for a specific purpose or symbolism, which you can read about in our book.
Interestingly, kokdu were not somber or morose, as you might expect, but bright and colorful.  Many of them were even playful, with a few clowns and acrobats included as well.  This was a reflection of the optimistic perspective at the time on death and the afterlife, that a person's passing shouldn't be filled with sadness, but rather viewed as a celebration because, after all, the spirit lives on and is moving to a better place.  I like a comment that appeared in the New York Times review of an exhibit of kokdu at The Korea Society: "We're all joining the party eventually, and it might be nice to have a few clowns and acrobats, even a monk on a turtle leading the way."  🙂
The funeral bier, or sangyeo, which carried the coffin, was intricately carved and brightly painted, and was transported in a procession to the gravesite by 24 men, singing and stepping in unison to a drumbeat.  A separate box or small bier carried the deceased's spirit, so that when the large bier was burned at the end of the burial ceremony, as was the custom, the spirit would be returned to the family home and kept safely forever.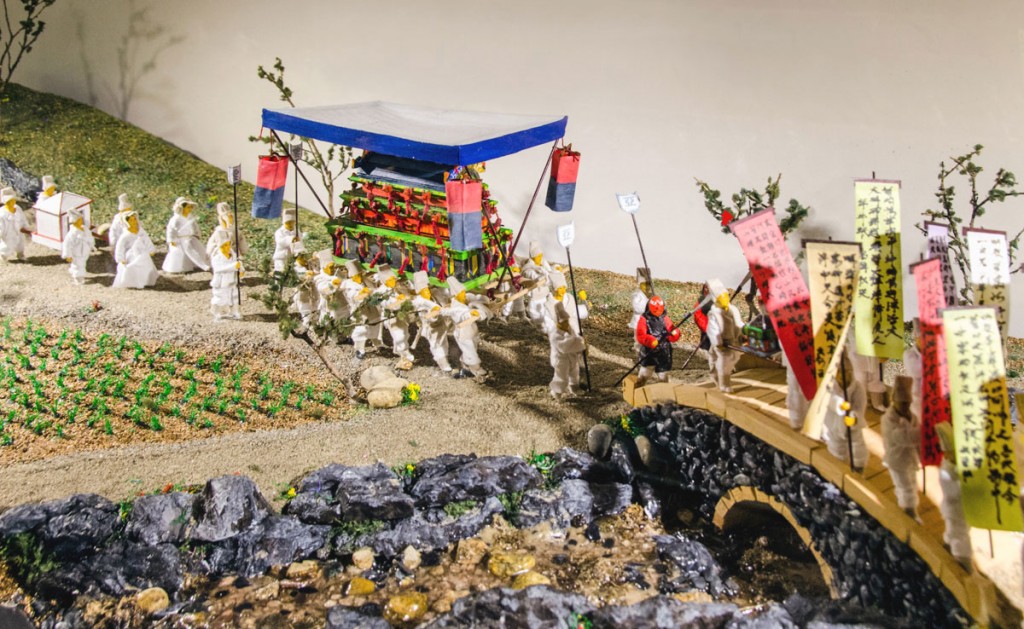 In a break with the strict rules that existed during the Joseon Dynasty regarding dress and lifestyle depending on social status, funeral biers and kokdu were one place where an elaborate display was acceptable, even for ordinary citizens.  Everyone, regardless of wealth, lifestyle or popularity, was entitled to a triumphant send-off to the other world, expressed this way: "In death, we are all rich; we are all as one."
While it is still possible to occasionally witness a traditional funeral procession in remote areas of South Korea, it's not surprising that as Korea rushes toward modernity, they represent a tradition that has largely disappeared.  Fortunately, there are three museums in Seoul devoted to kokdu, where it's easy to spend an hour or two enjoying their quirky charm.  I've visited the first two and can highly recommend them.  Party on folks!
Kokdu Museum                                                       Mokin Museum                                                       Musee Shuim
122, Dongsung-gil                                                  83 Gyeonji-dong                                                    36-20 Hongji-dong
Jongno-gu, Seoul                                                   Jongno-gu, Seoul                                                    Jongno-gu, Seoul
www.kokdumuseum.com                                    www.mokinmuseum.com                                    www.shuim.org
— Debbi
Save