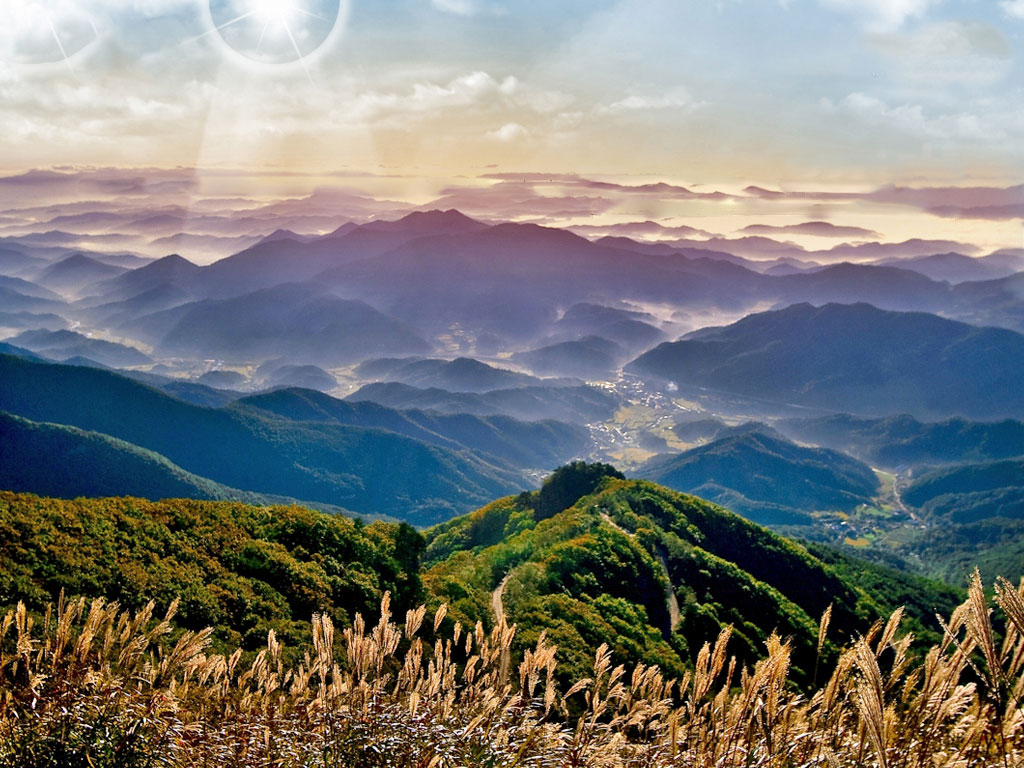 High Fashion in the Mountains
I don't think it's possible to go anywhere in Korea and not be within view of at least one mountain.  It is a very, very mountainous country, and, not surprisingly, the mountains have long held deep religious meaning and significance for Koreans.  Each was traditionally believed to be sacred, home to a mountain spirit, Sanshin.  These spirits were the most powerful protectors of all, guarding villages and towns and, by extension, the entire nation.  Shrines to Sanshin, called Sanshin-gak, can be found all over Korea, often within Buddhist temples.  Early Buddhist monks, appreciating the importance of Sanshin for Koreans, allowed Sanshin-gak into their temples as a way of encouraging the people to visit the temples, effectively melding animism, Shamanism, and Buddhism to this day.
Paintings of Sanshin, which are unique to Korean culture, depict him as an elderly wise man (or, occasionally, woman) dressed in beautiful robes and seated on a plateau high in the mountains in front of a pine tree with a tiger by his side. Together, these three symbols—Sanshin (in human form), the pine tree, and the tiger—embody the Korean ideal of perfect ecological harmony among all aspects of the natural world.
Ceremonies to worship Sanshin, called Sanshin-je, have been held throughout Korean history, although they were forbidden during the Japanese occupation (1910 – 1945) and languished in the difficult years of World War II and the Korean War.  Recently, these ceremonies are springing up again and have been chronicled by scholar David Mason in his book Spirit of the Mountains and on his website (http://www.san-shin.org/).  In a recent wide-ranging interview on Korean television (https://www.youtube.com/watch?v=0dtDo0po8sY), Mason emphasizes that, although mountains have played a central role in many cultures and religions throughout human history, they are especially salient in Korean culture.
So it was with interest that I read a recent article in the Washington Post ("Hiking in Korea," July 28, 2014) about how mountain hiking in Korea, always popular, has taken on a new look.  One in 3 Koreans goes hiking more than once each month, and the roads are jammed on weekends leading to the places where trails begin.  But, increasingly, one cannot hike properly unless one is outfitted in brightly colored, very expensive gear.  So popular are the outfits that they're spilling off the slopes and being worn while traveling, shopping, and eating out in the city, especially by baby-boomers.  As one woman explained, "Any(where) but weddings and funerals."
But, despite wearing, on average, $1000 worth of gear for a summer hike, it doesn't mean the trekkers aren't serious.  Hikes are long and vigorous, ending with elaborate picnics at the tops of mountains, with lots of rice wine, where the view is undoubtedly majestic.  Sanshin must be pleased by all the well-dressed visitors and, who knows, may very well join them in drinking a toast to a day well-spent in the mountains!
On my last trip to Korea I bought a lovely viewing stone that looks very much like Inwang-san (Benevolent King Mountain), which rises behind Gyeongbokgung Palace in Seoul, and I study it every day, certain that the essence of Sanshin came home with me.
~ Joan
Save