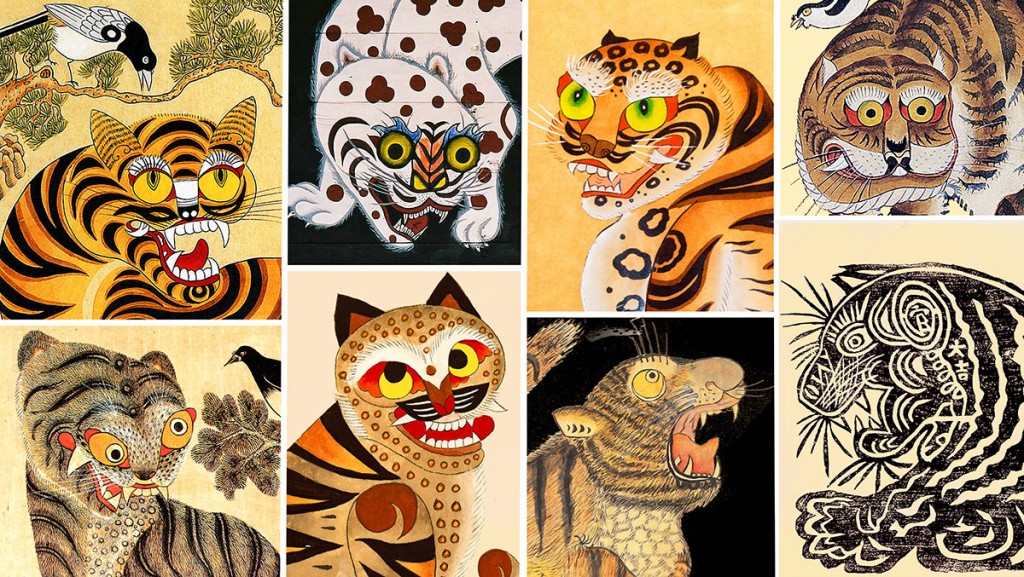 A Love Affair With a Tiger
I love animals.  Nearly all of them, with the exception of the annoying insects (mosquitos, flies, and gnats, I'm talking about you), rats and some snakes.  I even like what's been voted the world's ugliest animal – the unfortunate blobfish.  You can't hate something that has to go through life looking like that.  It wouldn't be fair.  But I have to admit that I'm not really a cat person.  Never have been.  They're aloof, don't come when they're called, and you can't teach them tricks.  (Please, cat people, no comments.  I know there are some very nice exceptions.  I'm just talking generalities here.)  Give me a dog any day.  The dumber the better.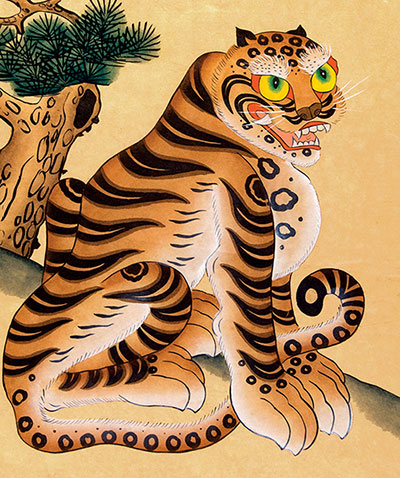 So it may come as a surprise that when I'm asked what my favorite Korean symbol or folklore character is, my answer is always horangi, the tiger. A very big cat. He's strong and powerful and somewhat scary because he is, after all, a tiger.  Those characteristics come in handy when he's in the symbolic role of protector, guarding against the three disasters (fire, flood and wind) and the three agonies (war, famine and pestilence!)  Very impressive.  With that kind of track record, it's no wonder Koreans traditionally hung his picture on the door of the house on New Year's Day to bring good luck and banish evil spirits.
The tiger was also believed to be the messenger of Sansin, the mountain spirit, and when he's pictured with a magpie, it means the arrival of good news. All important stuff.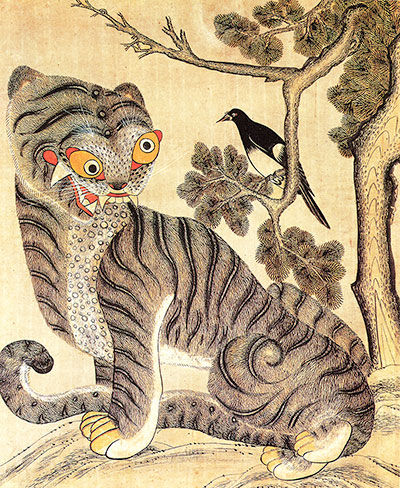 But none of that is why I love horangi. What I find so charming about him is that he is also often portrayed as a bumbling, comical character – clumsy and even sort of foolish – who, it's said, can be easily tricked by the smaller creatures of the forest. With his eyes sometimes rolling around in his head, you can see why he'd be an easy target. The blobfish could probably even trick him.
It's not surprising that horangi has always been, and still is, a popular character in children's stories and folk tales. Sometimes he's got his scary face on, but much of the time he's the goofy bumbler. So Korean kids grow up listening to funny stories about horangi and they learn to love him.
Joan found this wonderful quote in the Introduction to Korean Tiger: An Exhibition of Korean Folk Painting:
 "Our admiration for Horang'i is so profound that no one treats him as an injurious beast. Horang'i is our good friend, our good neighbor, our brother, our uncle, and our humorous clown. We must be aware of the fact that a Korean, unless he is out of his mind, cannot possibly paint a tiger like a tiger, for such an animal does not exist in the heart of a good Korean."
Indeed.
~ Debbi
PS:  Joan feels the same way.  About horangi that is.  I don't know about the blobfish.