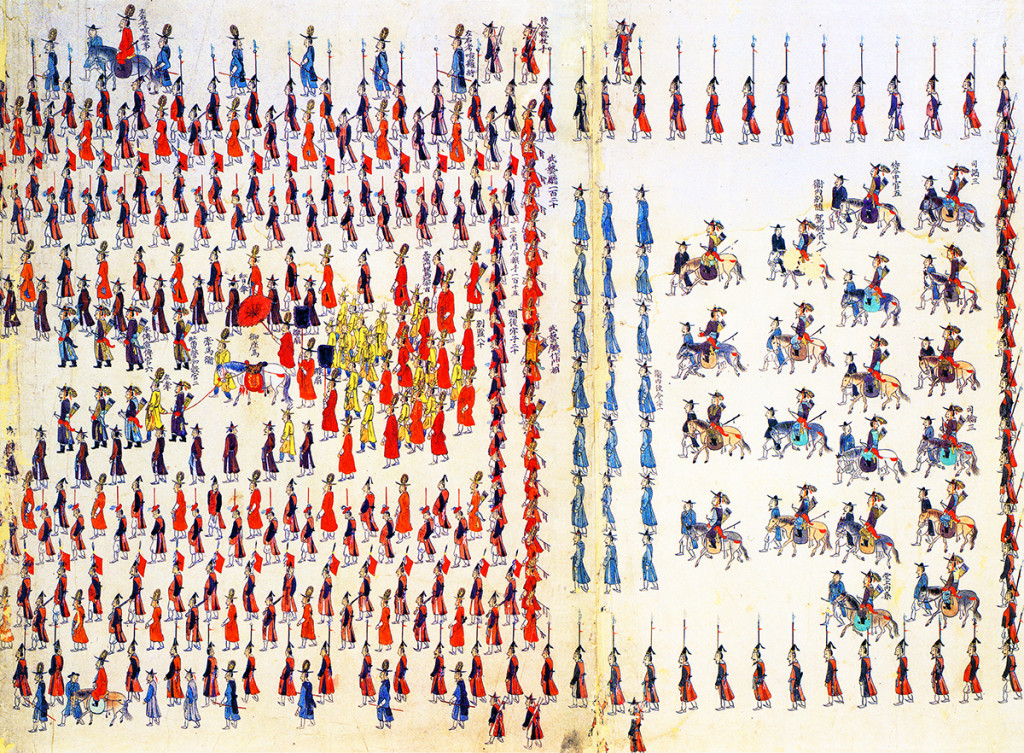 A Dynasty in Miniature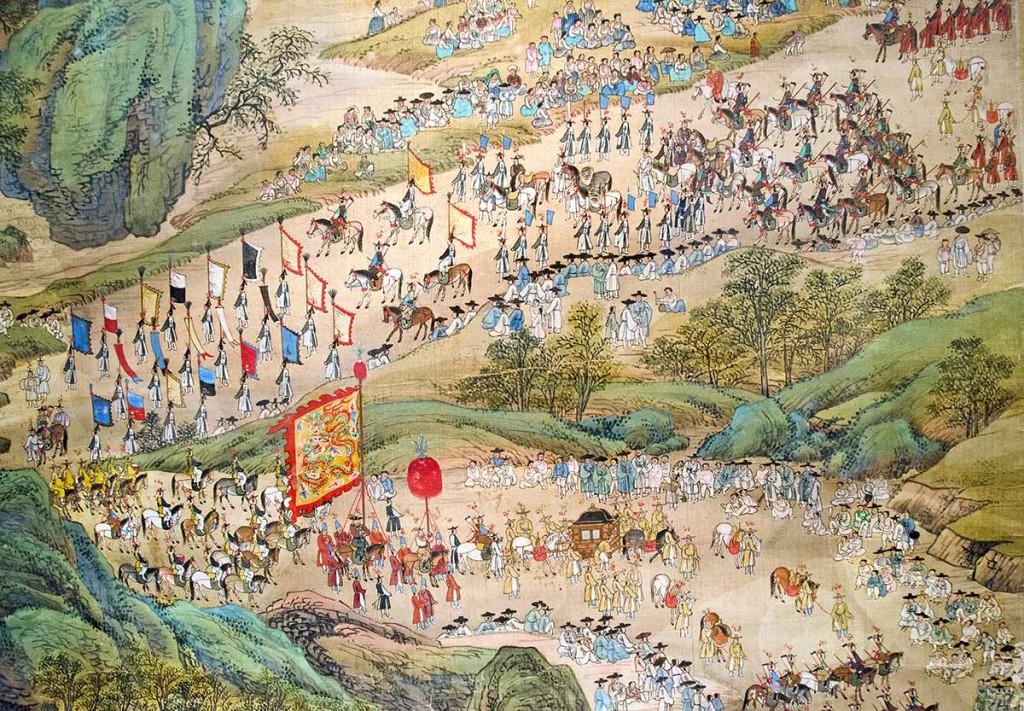 One of the things that I have enjoyed most about researching and writing this book is the discovery of art forms we were previously unfamiliar with. The more we learned about some of them, the more we grew to like them. One of those, which has become one of our favorites, is girokhwa, or documentary paintings. Like modern photographs, these paintings were the way that official and important events were chronicled during the Joseon Dynasty.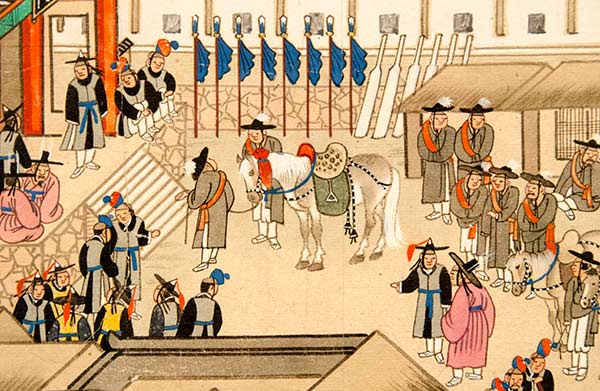 The court painters who produced them were highly skilled artists who accurately recorded these events down to the minutest details. Individual human figures, for example, often no larger than a fingernail, were drawn in various positions with a range of facial expressions — some dignified, some comical, some alert, some falling asleep, some talking to their neighbor. They remind me of a Where's Waldo illustration.
So that they would portray every aspect of the event, they were often painted from multiple points of view simultaneously — including bird's eye, side, three-quarter, and reverse perspective.  I'm not even sure what that means.
Perhaps the most well-known of girokhwa is "Royal Procession to the City of Hwaseong," commissioned in 1795 by King Jeongjo to commemorate his visit to his father's tomb. The king made regular visits to the tomb, but 1795 was a special year because it was his mother's 60th birthday, and would have been his father's 60th birthday, if his father, King Yeongjo, hadn't locked him in a rice box and starved him to death in 1762. (Yes, that's what I said. And that's just the tip of the iceberg. You can read the whole fascinatingly sordid tale in a book written by his wife – The Memoirs of Lady Hyegyong. I've already ordered it. Should make for good bedtime reading.)  1795 was also the 20th year of King Jeongjo's reign. So instead of his usual 3-day visit to Hwaseong, he decided to extend this one to 8 days and throw a birthday party for his mother while he was at it.
The king obviously wanted to have some control over how this important event would be remembered because he instructed court officials to document it all in extreme detail — his every word and conversation, the names, role and wages of all 6000 participants, the exact measurement of the ingredients in hundreds of dishes, and on and on. The result was 1318 pages of paintings depicting highlights of the visit.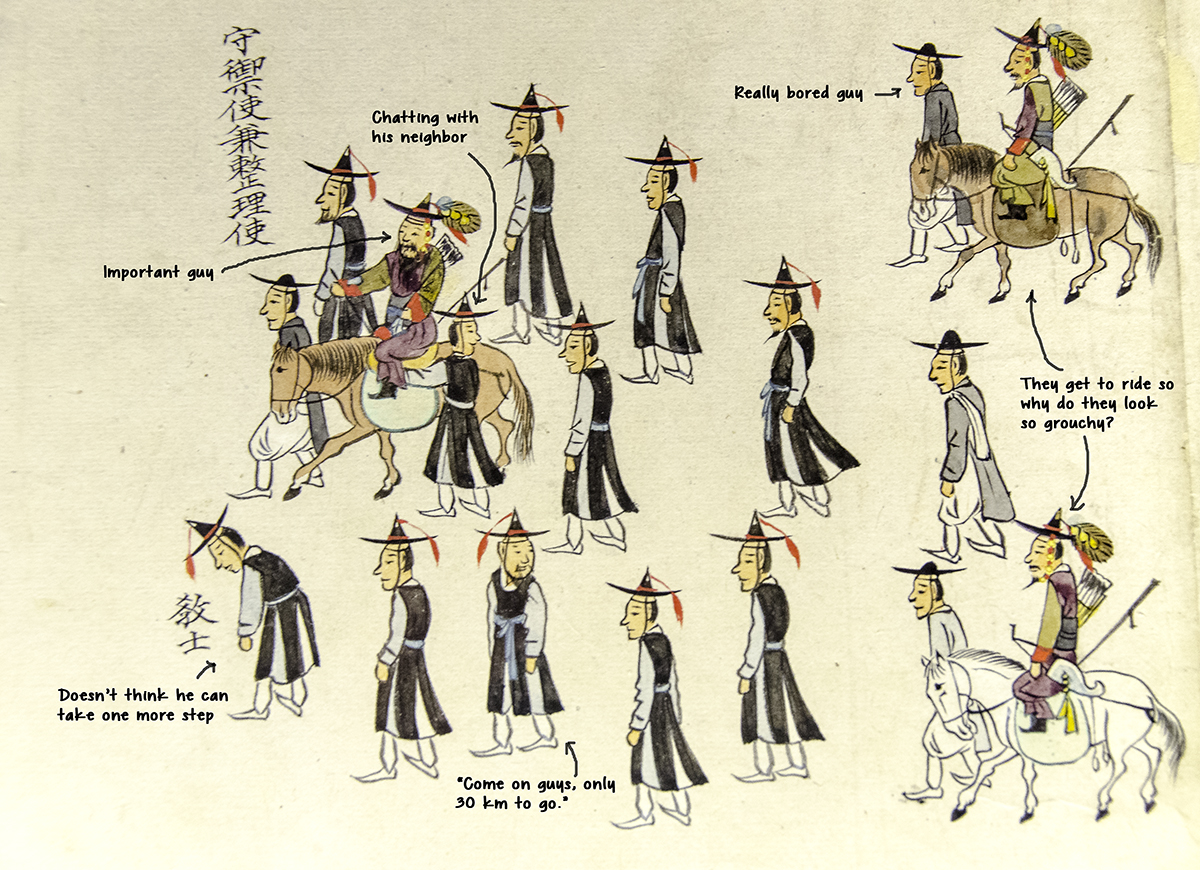 Sixty-two of those pages were needed just to illustrate the procession from Seoul to Hwaseong, which stretched out for almost a mile and was made up of 779 horses and 1779 people, a list that seemed to include anybody and everybody — military and civil officials, soldiers, cavalry officers, bodyguards, musicians, flag bearers, doctors, court ladies, eunuchs, slaves, keepers of the palace keys, officials related to paper manufacture (?), and honored guests!
As was the custom, King Jeongjo's mother was carried in a palanquin, but he opted instead to ride on horseback to be closer to her. Another palanquin was used to carry the royal seals, while Princess Hyegyong's clothes were thrown over the back of a horse. (If I were Princess, I would have had something to say about that.)
At some later time the 62 pages of paintings of the procession became a scroll that extends for 64 feet. Some of the paintings of other parts of the event were mounted on folding screens and given to court officials as gifts.
Hundreds of examples of girokhwa exist today, documenting everything from religious rituals and court banquets to battle scenes and martial arts performances. These remarkably detailed visual recordings have been instrumental in allowing us to not only reconstruct important events of the Joseon era, but to give us a charming and even intimate view of life during Korea's longest dynasty, now 100 years after its end.
~ Debbi
(And because I like them so much, here are a few more!)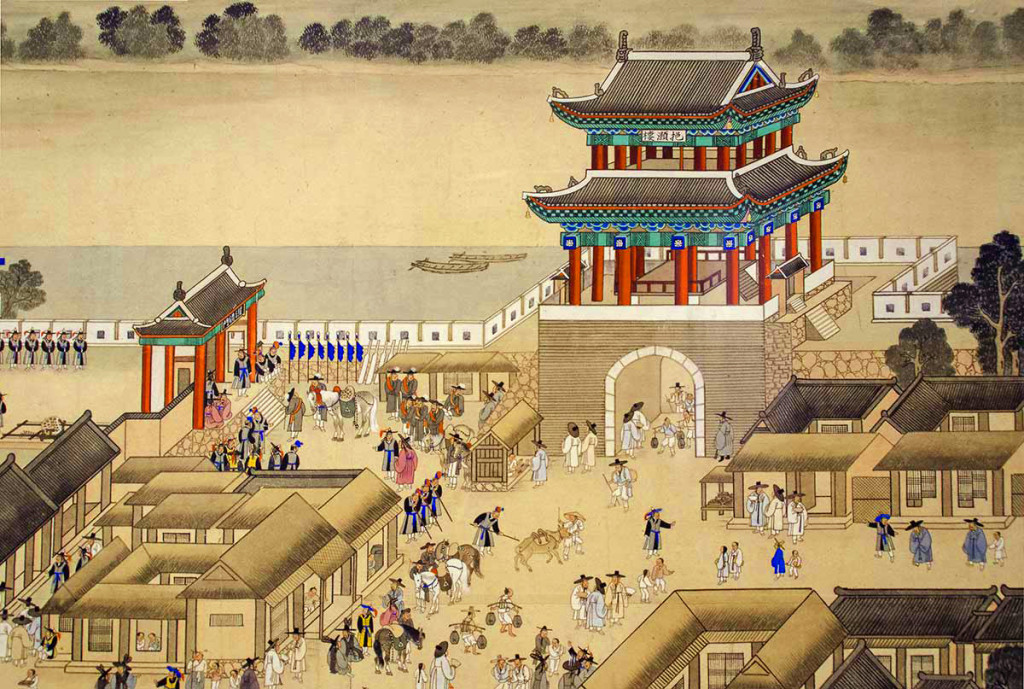 Save