Those Blessed Beautiful Thimbles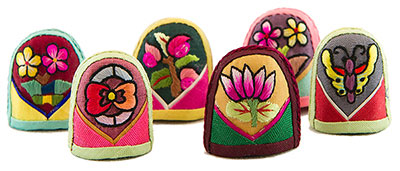 When I think of a thimble, I imagine a metal cap that fits on my finger with indentations to help stabilize the needle I might be using.  Not so the Korean thimble!  Traditionally and even today, they are made of natural materials (often layers of stiffened paper) and then covered lovingly with brightly colored silk that is embroidered with charming symbols meant to bestow good wishes.  For example, the six thimbles on the cover of our book are decorated with flowers, a lotus, and butterflies and a peaches.  The lotus is the symbol for purity, butterflies stand for love and joy, and peaches represent longevity.  Notice the detail in the work. And all the stitching was traditionally done by hand without the aid of electric lights or spectacles!
Women in the Joseon Dynasty (1392-1910 A.D.) were largely restricted to the home when they weren't working in the fields.  They weren't allowed to go to school, so they couldn't read or write, and they were expected to spend any spare time they had producing the clothing and other necessities that the family needed.  This involved a lot of sewing, and a woman's sewing box was one of her most prized possessions, acquired when she still lived as a girl with her own parents and taken with her to her new home at the time of her marriage.  Sewing and embroidery became very valuable outlets for women's energies and frustrations.  Every scrap of fabric (that was also made by the women) was saved and re-used.  Thimbles are one example of how those scraps were recycled into something both useful and lovely to look at.

I think these beautiful thimbles are a perfect example of how women, in many cultures throughout the world and throughout history, have used handicrafts to express and showcase their creativity.  Why have a plain old, dull thimble when you can have one that's colorful, charming, and full of blessings?  Young Joseon women are said to have given thimbles as gifts to their new mother-in-law and other female relatives, as a way of wishing them long, happy lives.  It must also have been a way for that young woman to demonstrate her needlework skills, reassuring her new family that she was well-prepared to care for her new husband (and for all of them, since a new bride went to live in the home of her in-laws after the wedding and was expected to honor and serve them).
The wonderful Korean textile artist, Chunghie Lee, who graciously wrote the Foreward to our book, has honored the countless generations of nameless women who created the necessities for their families late at night with a needle, thread, and thimble.  These women did not sign their work, although it was often art.  Chunghie, who has single-handedly made the world aware of Korean wrapping cloths (bojagi, which are another way that Joseon women used the left-over scraps of fabric) took old photographs of anonymous Korean women and transferred them to fabric, which she then made into beautiful panels and other pieces of art.  She has organized a worldwide biennial Bojagi Forum (www.koreabojagiforum.com) which will be take place this year from August 24-28 on Jeju Island, Korea. I'm sure she would agree that, in a very real sense, the thimbles made and used by Korean women for thousands of years have been a gift to us all!
~ Joan
Save