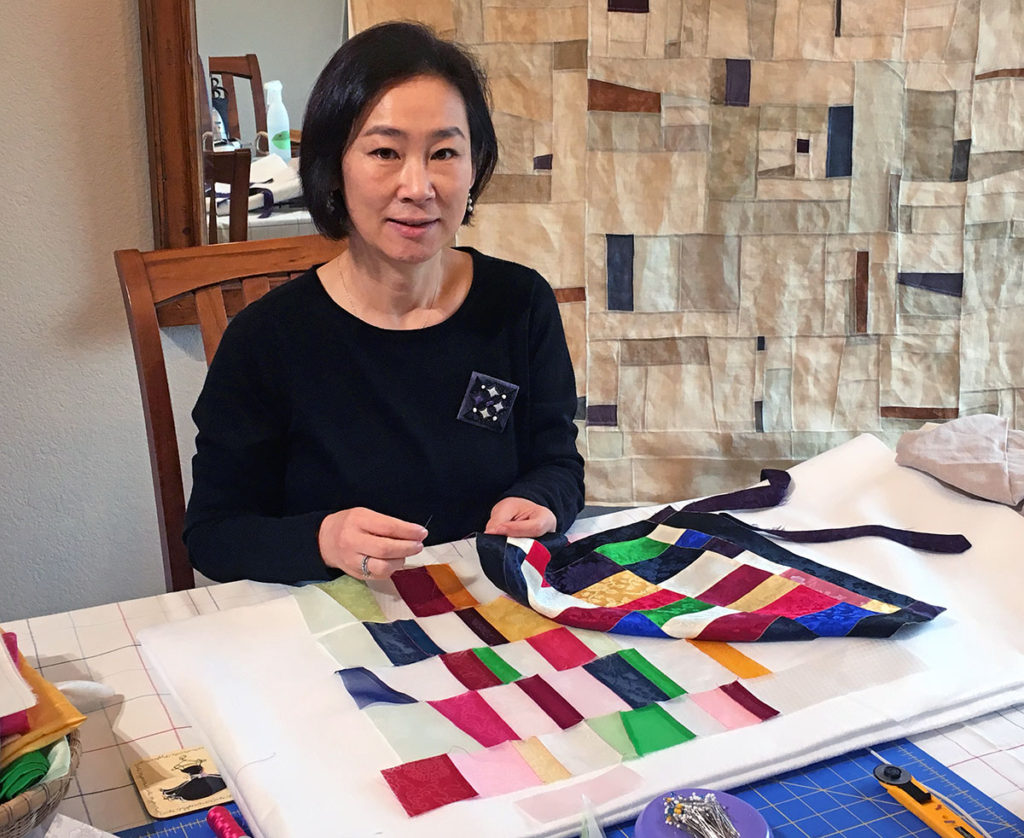 Youngmin Lee, Bojagi Artist
During a recent visit to San Francisco, my daughter and I had the great pleasure of visiting the studio of Youngmin Lee (www.youngminlee.com), a skilled bojagi artist born and raised in Korea and now living in the U.S.  Serene and soft-spoken, Youngmin spends up to four hours most days carefully stitching wrapping cloths, pouches, placemats, and wall hangings, and is making her artistry known throughout California and beyond.   Working alone, she creates her own designs and individually makes every piece by hand. Using fabric from Korea—ramie, silk, Korean silk gauze, and organza–she has recently also begun to experiment with natural dyes.

In many ways Youngmin's artistry is truly representative of the centuries-long tradition of creative needlework engaged in by Korean women. Growing plant fibers, spinning fabric, and spending long hours creating clothing and other household necessities, women labored all day and often long into the night by lamplight. To preserve every scrap of the precious fabric they had made, they developed a technique known as jogakbo, piecing the scraps together in spontaneous, creative, original designs that were then made into other useful items. One such item was the bojagi, a flat piece of cloth used to wrap, cover, and protect everything from food to special gifts. Ubiquitous in the Korean home, bojagi also came to carry symbolic meaning, honoring the creativity that went into making them as well as paying respect to the recipients of gifts that were wrapped in them.   Of her art, Youngmin says:
For me bojagi is not only wrapping cloths but the tool that I use to reinterpret the culture I grew up in and still surround myself with. The pieces that I make contain Korean culture as well as the family history of the recipient that is connected with Korea. That is, each piece contains invisible threads that create connections between me and another. All these bits and pieces of cloth and meaning are connected, becoming a bojagi artwork. It is difficult to express but it is not just pieces of colorful fabric.   And I hope those who see and own my work can feel this.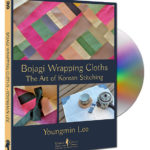 Luckily, Youngmin also has a deep interest in teaching her art to others. She has created a fine DVD detailing her techniques in which she clearly explains and carefully demonstrates many types of traditional stitches and projects. She has also taught bojagi workshops at the Los Angeles County Museum of Art (LACMA), the San Francisco Asian Art Museum, and the Oakland Museum of California. Recently, she combined the work of many students to create a stunning communal bojagi that is currently being displayed (LACMA, 14'x14'). The monumental piece will continue to grow as more students create panels to add to it in future workshops.
In the summer of 2014 Youngmin was accepted as a contributing artist at the second annual Bojagi Forum held on Jeju Island, Korea (http://koreabojagiforum.com.)  Organized by renowned bojagi artist Chunghie Lee of the Rhode Island School of Design, the forum gathered artists from around the world who appreciate the beauty of bojagi as an art form and have begun to incorporate it into their own work. It was while she was on Jeju that Youngmin took a workshop with Soonja Yang, the master of gal-mul, an island tradition of dying fabric with the juice of persimmons. One of her recent wall hangings, Awakening, constructed of silk dyed with coffee and tea, was selected for a juried show at the Mendocino Art Center in California. In 2016 she returned to the Bojagi Forum with two stunning pieces (Out of the Box I,II).
Her most recent creative enterprise will be hosting a Textile Tour to Korea in the fall of 2017 (http://koreatextiletour.weebly.com).   With two other artists, she will lead a small group of textile enthusiasts to Seoul to visit museums, markets, and artists' studios. The tour filled quickly this year. Those of us unable to go have put our names on the waiting list for 2018!
Visit Youngmin's website or Etsy to see her lovely art. For those of you lucky enough to live in San Francisco, her work can also be found in the gift shop at the Asian Art Museum, where she has also had two pieces (Luminous I, II) accepted into the museum's permanent collection. When you study her intricate stitches, you will marvel. As one who has taken instruction from her, I can tell you that it's impossible to replicate!
~ Joan
PS:  Youngmin must have very good eyes!  ~ Debbi
Save
Save
Save
Save